Local Events
Please scroll down for more events around you.
---
'Living With Luke- One dad wrestles with Autism' - A Play
Friday 24 November 2017, 7:30pm
The Pemberton Centre, H.E. Bates Way, Rushden NN10 9YP
Tuesday 21 November 2017, 11.30am-3.30pm, Moulton Community Centre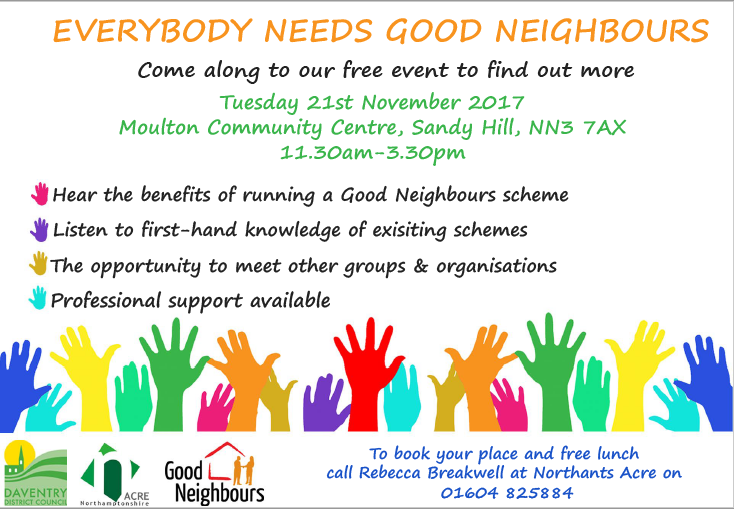 6pm - 8pm
The Hall at KGH
Kettering General Hospital's Midwifery Advocates are hosting their 28th Pregnancy and Baby Road Show providing huge amounts of useful advice in a one-stop shop open evening for parents-to-be and new parents. The event on Wednesday, November 29, is being held from 6pm-8pm at The Hall at KGH (the recreation hall next to car park B at the main KGH site).
More information about the event can be found here
Coffee & Cake with Kettering General Hospital
Wednesday 22 November 2017
10am - 12pm
Location: North Park Cricket Pavilion
The rural wellbeing service is a four-year project running from March 2015 to February 2019. Loneliness and social isolation are two growing issues facing many older people, especially in rural areas. With this project, they aim to:
Help reduce feelings of loneliness among people over 50 living in rural areas of Northamptonshire. We aim to help them become more resilient and to enjoy improved community engagement with other residents.

Help them to access relevant services to enable them to experience improvements in their physical, mental and financial well-being.
The project involves visiting rural communities with our mobile Information Bus, which we hire from South Northants Volunteer Bureau.
Please visit the Rural Wellbeing Service webpage for more information.
Northamptonshire County Council (NCC)/Learn2b are offering courses to promote positive mental health and wellbeing which are free to individuals experiencing any form of mental health issue.
More information about the courses can be found here